Apartments for rent in the city centre of Bergen
Bjørvika Apartments has been offering apartments for rent for more than 10 years and now offers more than 260 rental apartments. About 50 of these apartments are located in Bergen, and the rest are located in the city centre of Oslo and Trondheim.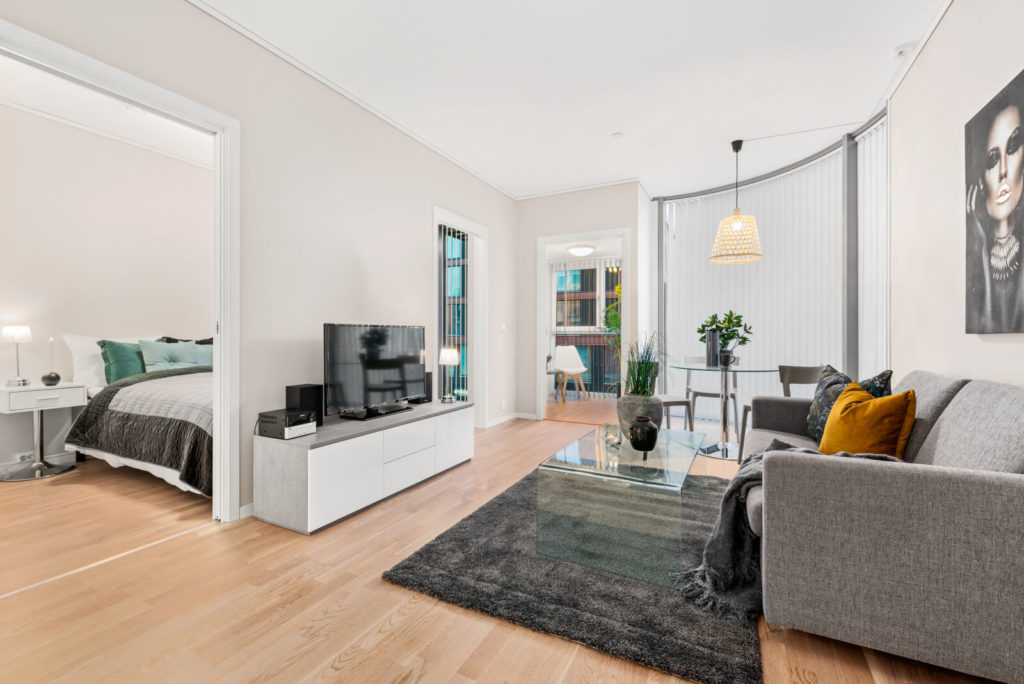 Just similar to an apartment hotel in Oslo / aparthotel / Corporate Housing / Corporate Apartments
Our offer is almost like an apartment hotel in Bergen, but instead of having all the apartments in one building, we have all our apartments in one area, spread over several buildings. This gives you as a guest a much greater flexibility in terms of where you want to stay, as well as your budget. Do you want to live together? No problem! All our apartments are in the same area, and we have very many apartments in our buildings. This means that we can offer everyone who wants it, to live in the same building or in the same area. Other words used for the same purpose/concept are Serviced Apartments, Corporate Housing, Corporate House, Corporate Apartments, Extended Stay, Apartment Hotel, Aparthotel and many more, but they all mean the same.
Bergen Apartments for businesses
We have been offering apartments for businesses for over 10 years, and during those years we have built an extensive experience with guests ranging from small companies to the biggest private and governmental corporations and organisations in Norway and the world. We are proud to say that most of or initial clients 10 + years ago still uses us today. We are getting very good feedback on our Bergen apartments customer service, cleaning, personell, standard of the Bergen apartments, interior, equipment and location.
Where in Bergen are the apartments located?
In Bergen we have apartments in Damsgårdssundet, shown on the map below. The apartments are located in the immediate vicinity of the "småpudden" bridge, so you can walk directly across the bridge and into the city centre. The subway/"Bybanen" coming from the airport takes you to the subway stop "Danmarksplass", which is only a few minutes walk away from all our apartments. There are also bus stops within walking distance of the apartments. If you want to rent a parking space in the garage we also offer it. In Bergen we offer apartments for rent with 1, 2 and 3 bedrooms.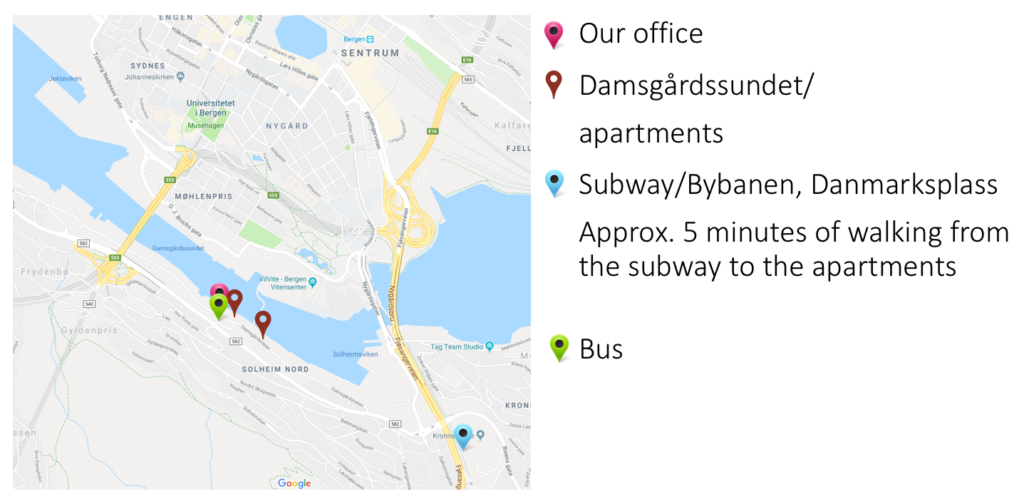 How much does it cost to rent an apartment?
Most of our guests are people who live with us because of work, and they have a corporate agreement with us, but we also rent to private individuals and tourists. If you are a company that wants to enter into a business agreement, you can contact us here. For stays of up to 30 nights, we have a dynamic pricing model, similar to hotels and the like. Our dynamic prices are always updated when booking through our website or you can request prices by phone on + 47 21 38 01 88 or by emailing post@bjorvika-apartments.no. For stays over 30 nights we have fixed prices. There are different prices for 1, 2 or 3 bedroom apartments. Contact us to get prices for the apartment that suits you, as well as your length of stay. Prices quoted are always price per night.
Our fixed price model gives you a better nightly rate the longer you stay.
Intervals:
Below 30 days, dynamic prices.
30 – 60 days.
60 – 90 days.
90 – 180 days.
180 days +
What is included in the rental price?
All the apartments are fully furnished and equipped with everything you need for your stay. There is an open-plan living room with kitchen, fridge with freezer and dishwasher. The kitchen is equipped with everything you need to make your own food for yourself and your guests. We always have separate bedrooms and no studio apartments. Based on 10 years of experience in renting out apartments, we know that our guests want separate bedrooms and separate zones for living room, kitchen and bedroom. Our booking department is always available, with opening hours from 09:00 to 21:00 every day of the year. After 9pm, we have an agreement with a security company which is available 24/7, so you always have someone to contact if there is anything. Weekly cleaning of the apartment is included in the rental price, as well as changing of towels and linens. There is a washing machine in the bathroom (no shared laundry facilities etc.). It also includes a starter pack on arrival with the most essential items you need, such as toilet paper, washing powder, hand soap, etc.
You also have your own private high-speed wifi connection (no shared wifi connections) and cable TV with 40-60 channels. Private Internet is a huge advantage in terms of IT security, speed and stability. So if you are going to work from home, stream music, video or do online gaming, we have good enough internet connection for you.
All of our apartments are in newer buildings / housing projects, which follow today's standard in terms of fire safety, sound insulation, windows / lighting, good room plans and ventilation. There is an elevator in all buildings and hallways and all apartments have a balcony. There are short distances to grocery stores (usually they are in the same building as the apartment), cafés, restaurants, shopping opportunities etc. Short way to public transport such as train / flight train, bus and tram. Possibility of own storage space, parking for cars and mailbox if needed.
We meet all tenants (meet & greet service) and show them to the apartment, go through how the different things in the apartment work, get them up and running with the internet, TV etc., so everything is easy and hassle-free for the guest from the moment they arrive.
In other words, everything is included in the rental price, except you want to purchase any of our extra services such as a parking space for your car or the like. If you want to rent a parking space with us, we have parking spaces in the basement / garage of all of our buildings.
Short term rental of apartments in Bergen – how long can you rent?
All our apartments can be rented short term, from one day onwards, so it is only your need that determines how long you stay. We have many guests staying only 24 hours, several days at a time, weeks, months or even years. You can contact us by phone or email or you can book your short term rental apartment in Bergen directly on our website.
Damsgård Apartments is now called Bjørvika Apartments
Previously, our apartments in Bergen were marketed under the brand name "Damsgård Apartments".
As we have grown bigger, it has become natural to gather all the apartments under one brand name, Bjørvika Apartments.
Is this the same as AirBnb in Bergen?
Bjørvika Apartments is a professional operator who has rented out apartments for more than 10 years. Unlike AirBnb, where the landlord in most cases is a private person, we have built an organization with a booking department, janitors, cleaners, security,  administration and much more, which always ensures that our guests are satisfied and safe. In other words, our guests do not rent an apartment by a private person, where there may be private items in the apartment's drawers and cabinets and varying quality and standard of everything from the apartment itself to furniture, interior and equipment. With us you do not have to wonder if it is clean or if we will be there with the key when you arrive. We are a predictable supplier with a standardized concept for renting apartments based on high quality and good service.
2, 3 and 4 room apartments in Bergen
In all our locations you can choose between 1, 2 or 3 bedroom apartments, also called 2 room, 3 room or 4 room apartments. Our concept is standardized and the apartments are almost equally decorated. This makes it predictable for you as a guest, because you know what to expect before you arrive. You can see which apartment types we offer and see pictures of the different apartment types here.
Apartments with security in focus
We know that security is important when we rent out apartments for short term or longer periods. All our apartments are therefore
own fire cells, there are sprinkler systems and modern fire alarm systems, marked escape routes in the hallways and stove guard in the kitchens. In addition, our office / reception is located approx. 5 minutes walk from all our apartments and we are available every day all year from 09:00 to 21:00. After 9pm we have an agreement with a security company that can also be contacted.
Apartments for businesses in Bergen / business apartment in Bergen
Many of those who live with us live in connection with their work. These are typically employees working on a project in a city other than the one they live in, regular, consultants or hired labor / expertise from other cities or countries, who need a place to stay for the period they are going to work. For some, the need is for a few days, for others it is a few weeks, or it may be months or years. Bjørvika Apartments has been offering apartments for businesses for more than 10 years, and we have accumulated a great deal of experience, so that we can offer a good offer for business apartments in Bergen. Maybe you should move permanently to Bergen, but you need a temporary housing until you find a more permanent solution, then we have good solutions for you.
---